I'm jumping in Dana's giveaway: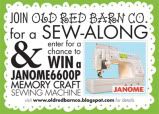 I've had my eye on the Janome 6600 for some time, but I'm afraid I wouldn't love it as much as I love my Bernina. I just mostly lust after the 9" throat space for free-motioning. But if I get it for free? I'm sure I can fall in love with it. ;)
My fabric choice was the most mottled hand dyes I could find.
This includes my most
favorite dyed
piece.
It has other pieces like the one below.
I had a lot of fun looking over the many hues as I cut my strips.
The fabric looks pretty boring from the side though! :P
I was also able to get my sewing chair back... so now I can go back to quilting full time!
And here's to hoping that I'll be the lucky quilter to win the machine! ;)
Leah